Lakeway Newcomers Wine Appreciation and Education Event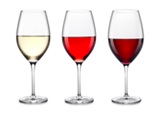 For our members who appreciate high-quality wines, a very special wine tasting paired with a small group dinner will be held at multiple host homes at 6:00 PM on Saturday, February 18.
The seven highly rated 93 to 98 Point wines that will be featured at this event have already been acquired at very favorable prices. Because of this special acquisition, the participation fee for this tasting event is only $30 per person. The dinner portion of the event will be a joint effort among all the registered participants at each host home.
Please note that each person who registers for this event will be assigned a specific recipe for a menu item that has been pre-selected to pair with a wine. Each participant will be required to buy the ingredients, prepare, and table-manage their menu item for the dinner. The host will be providing the meat main course and tableware. There will be a total of 8 or 10 participants at a host home.
About a week before the event, those who have successfully registered, using the Lakeway Newcomers' online payment process, will be notified of their assigned host home and their recipe assignment.
You must register and make your payment before February 8. Registration/attendance will be limited to the total table capacity of the four host homes. Once this table capacity has been reached, registration will be listed as Out of Stock. However, you will be able to email a request for being placed on the waitlist, in the event additional slots open. To register, click here.
Couples should register individually rather than selecting a quantity of 2 on the registration page.
If you have questions about the event, or want to be added to the waitlist, contact Scott Westphal at [email protected].